As more celebrities and public figures come out, and more gay men decide to start a family, we can expect celebrity gay dads to become more common.
---
Famous Gay Dads
These gays dads' willingness to publicly celebrate their families is helping pave the way for gay dad families everywhere to become more widely accepted — and their stories are as diverse and complex as the rest of the gay dad community's.
We've compiled an exhaustive list of gay families in the public eye, including celebrities, politicians and even a few internet-famous broods. Did we miss anyone? Who are your gay dad icons? Let us know in the comments.
Neil Patrick Harris & David Burtka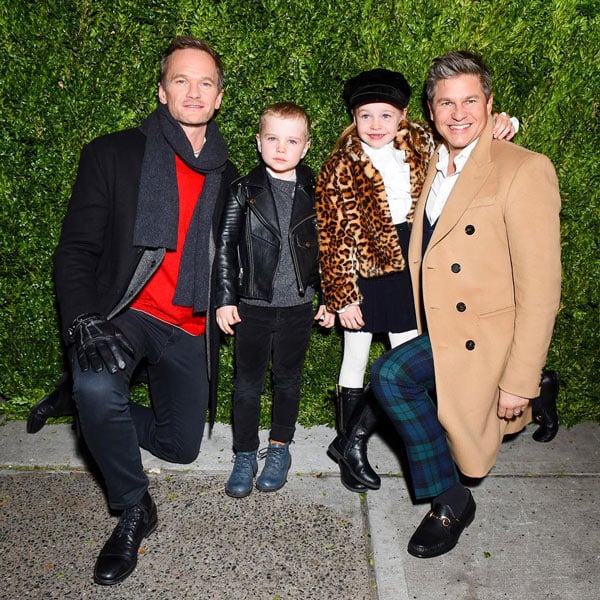 Harris and Burtka became dads in 2010 to twins via surrogacy. Lucky for us, Harris prolifically posts adorable family shots to Instagram.
Andy Cohen
Andy Cohen is an American radio and television talk show host, producer, and writer. He welcomed his daughter via surrogacy on February 4, 2019.
Anderson Cooper
Anderson Cooper is an American broadcast journalist and political commentator. He has two children through surrogacy.
Jesse Tyler Ferguson and Justin Mikita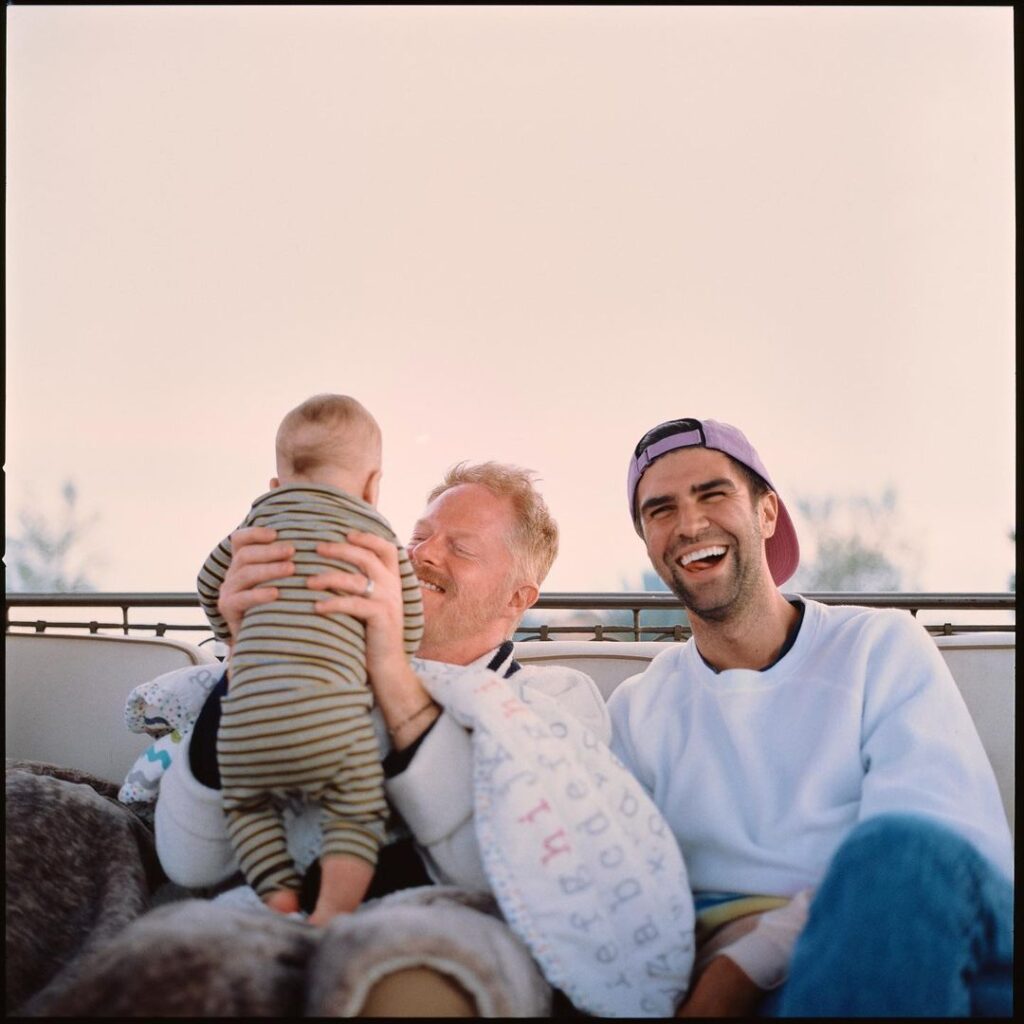 Jesse Tyler Ferguson is an American actor, best known for his role as Mitchell Pritchett on the TV series Modern Family. Jesse and Justin created their family via surrogacy.
Karamo Brown
Queer Eye's Karamo Brown is also a television host, author, actor, and activist. He has two sons through a former straight relationship.
Pete and Chasten Buttigieg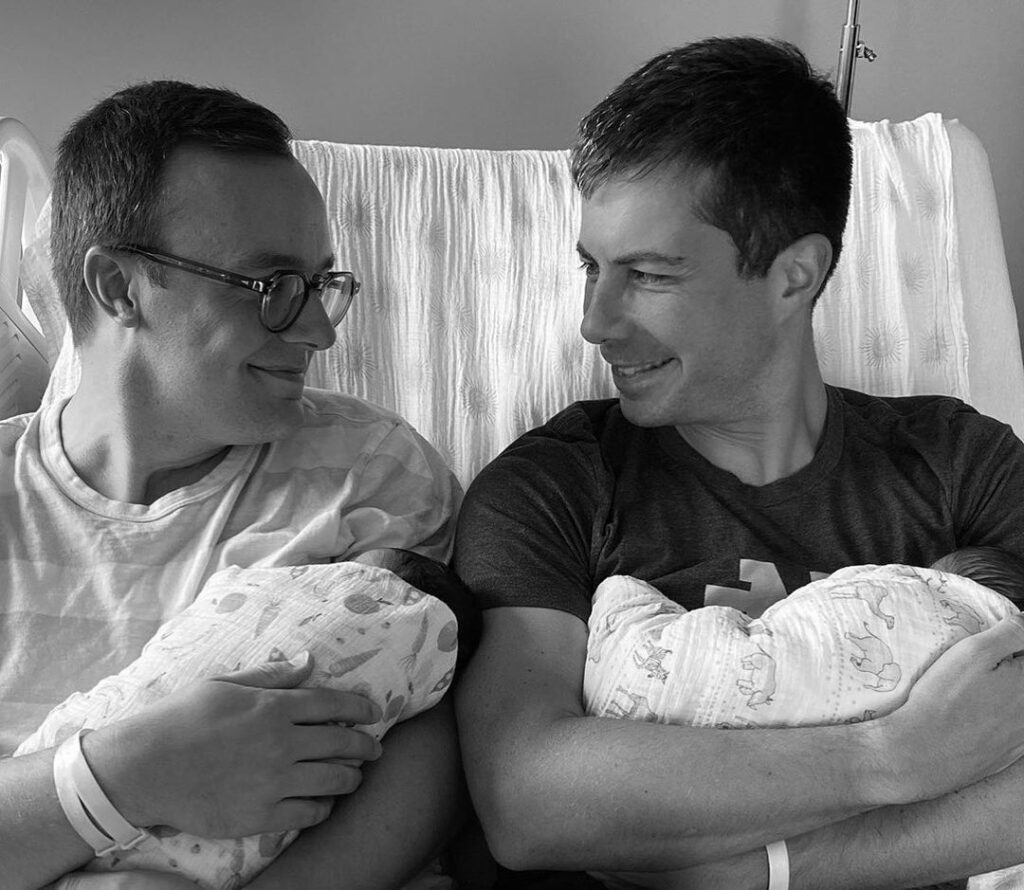 Former presidential hopeful, Peter Buttigieg is an American politician and former military officer who is currently serving as the United States Secretary of Transportation. He and his husband Chasten became dads through adoption.
Tom Daley and Dustin Lance Black
U.K. gold-medalist diver Tom Daley is a doting gay dad to son Robbie, who he welcomed via surrogate in 2018 with his American film director husband, Dustin Lance Black.
Tan & Rob France
Tanveer Wasim "Tan" France is a Pakistani-British-American fashion designer, author, and one fifth of popular reality TV show, Queer Eye. Tan and Rob created their family via surrogacy.
Nate Berkus & Jeremiah Brent
Celebrity designer Nate Berkus and his husband Jeremiah Brent have been together since 2012 and are the proud parents of two kids, Poppy and Oskar through surrogacy.
Ryan Murphy & David Miller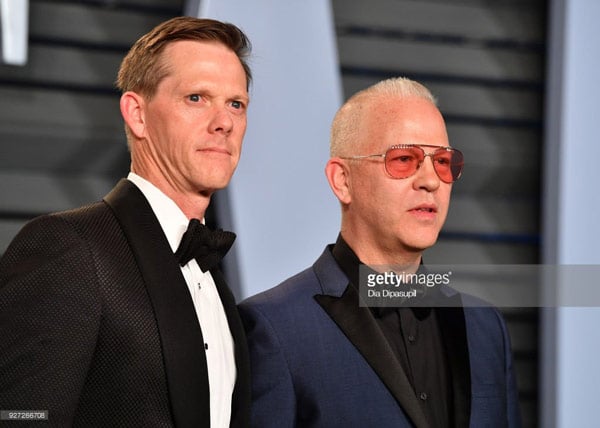 "American Horror Story" creator and "Glee" co-creator Ryan Murphy and his husband David Miller had Logan, 3, and Ford, 1, via surrogacy.
Shaun T. & Scott Blokker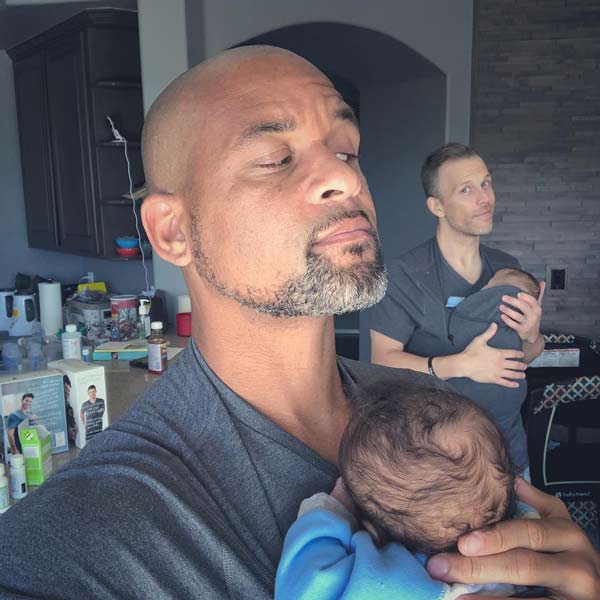 Fitness guru Shaun T. and his husband Scott welcomed twins at the end of 2017 in what had been a very long road to fatherhood. Since then, they've been sharing some new-parent realness and INSANEly cute pics on Instagram.
Dan Savage & Terry Miller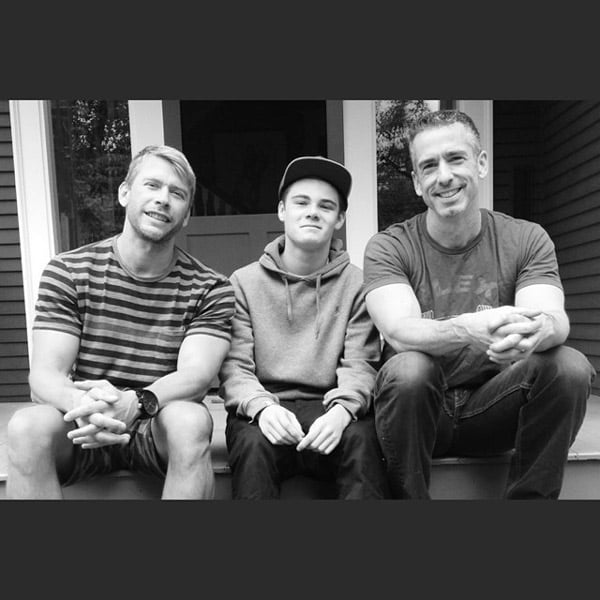 Dan Savage, the "Savage Love" advice columnist, and his partner, Terry Miller, adopted their teenage son D.J. as an infant. Dan and Terry started the "It Gets Better Project," a website that aims to prevent LGBT youth suicides.
Cheyenne Jackson & Jason Landau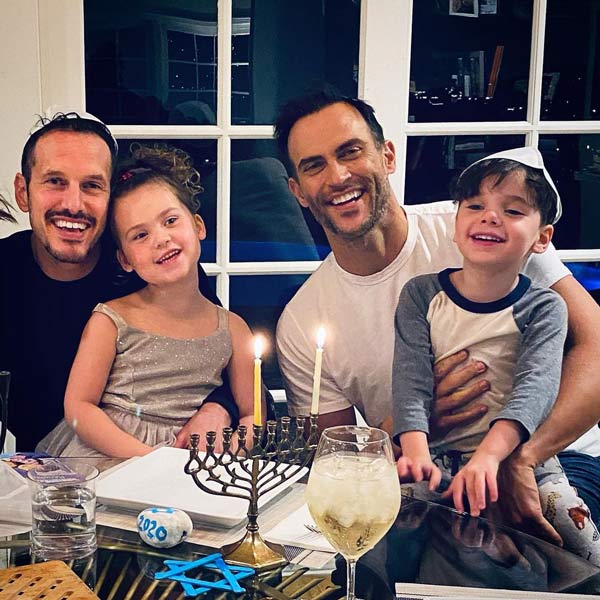 In October 2016, American Horror Story star Cheyenne Jackson and his husband Jason Landau became first-time dads to twins, Willow and Ethan, born via surrogacy. Jackson and Landau met at a 12 Step Program in 2013 and were married one year later.
Ricky Martin & Jwan Yosef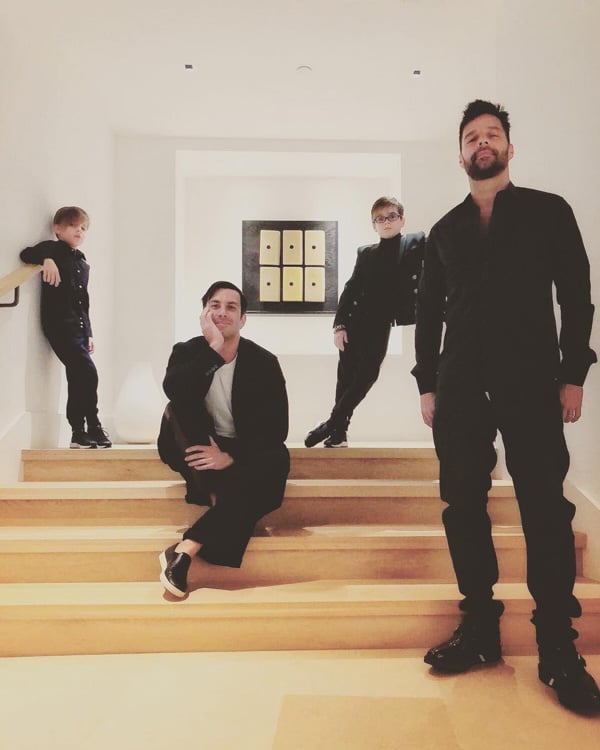 Ricky Martin had twins, Matteo and Valentino, via surrogacy in 2008. Asked if he'd consider having more, the singer said, "I'm just getting started with this fatherhood thing." He and artist Jwan Yosef were married in 2018, and have since welcome two more children to their family, Lucia and Renn.
Interested in becoming a dad? See how the GWK Academy can help you realize your dream of fatherhood.
Charlie Condou & Cameron Laux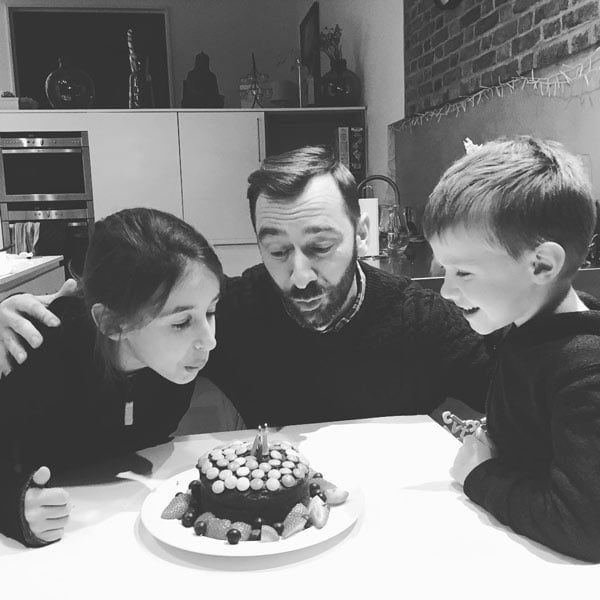 Coronation Street actor Charlie Condou and his partner, Cameron Laux, co-parent their daughter and son with their mother, Catherine Kanter. Condou serves as an ambassador for the Alternative Parenting Show, which advises prospective parents on surrogacy, adoption, fertility and family law.
B.D. Wong & his ex, Richie Jackson
Actor B.D. Wong ("Law & Order: Special Victims Unit," "Oz," "Jurassic World") and talent agent Jackson, who split in 2004, had twin sons, Jackson and Boaz, via surrogacy in 2000 using Wong's sperm and an egg donated by Jackson's sister. One of the twins, Boaz, died shortly after birth. Wong's memoir, "Following Foo: the Electronic Adventures of the Chestnut Man," details the experience. For more on B.D. Wong, click here.
Perez Hilton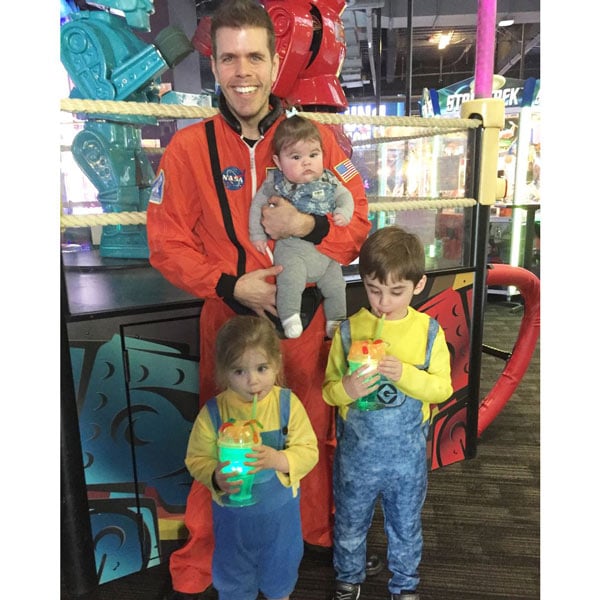 Hilton's son, Mario, was born via surrogacy in February 2013. He welcomed his baby daughter Mia in May 2015 and another daughter, Mayte Amor, in October 2017.
Fredrick Eklund & Derek Kaplan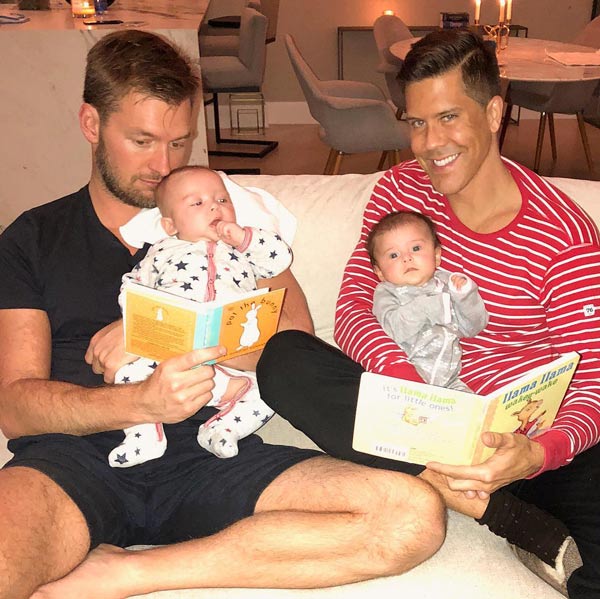 Reality TV star and NY real estate broker Fredrick Eklund and his husband artist Derek Kaplan welcomed twins, Frederick and Milla, via surrogacy. The couple had spoken publicly about their struggles with finding an egg donor and then experienced two miscarriages before becoming dads in 2017.
Matt Bomer & Simon Halls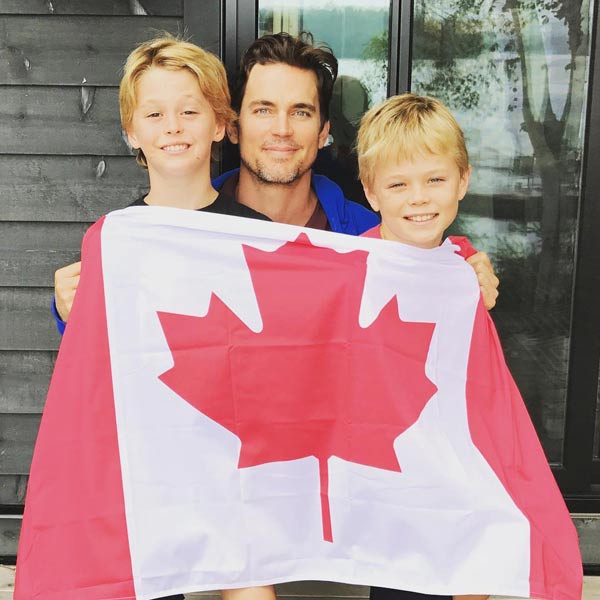 The "American Horror Story: Hotel" and "Magic Mike" star and his husband Simon Halls have three sons via surrogacy: Kit, and twins Henry and Walker. For more on Matt Bomer and his husband, click here.
Sir Elton John & David Furnish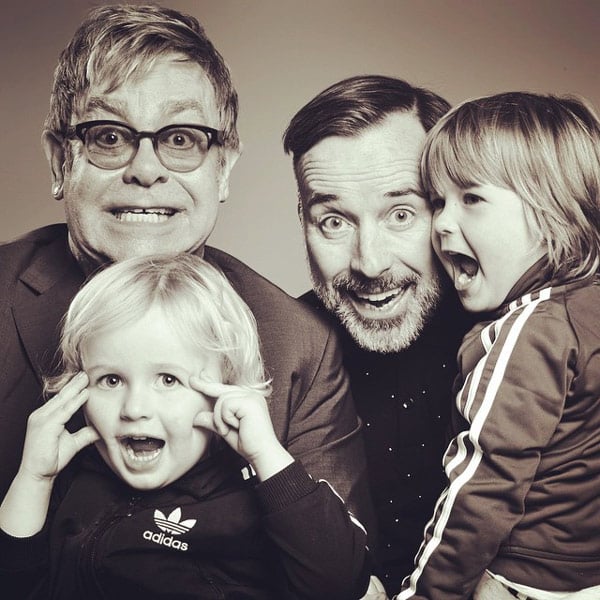 The couple's sons, Zachary and Elijah, were born to the same surrogate mother in California.
Clay Aiken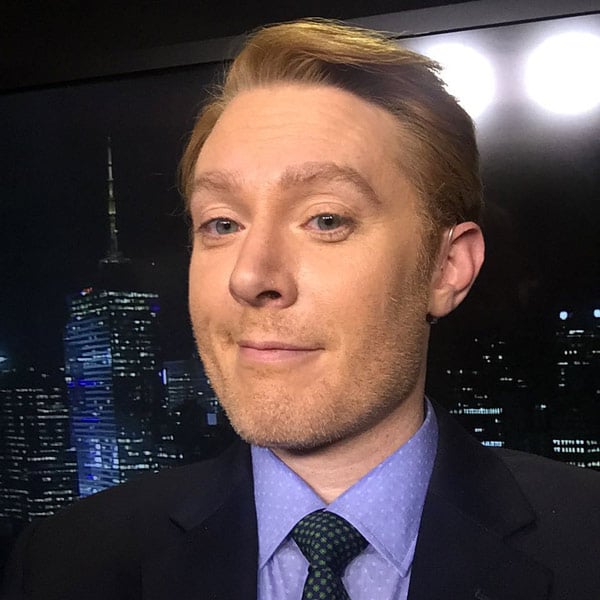 The "American Idol" contestant turned political activist had his son Parker with a platonic female friend, Jaymes Foster, whose brother has produced several of Aiken's albums. The two are reportedly now estranged but continue to share custody. For more on Clay, click here.
Alec Mapa & Jamison Hebert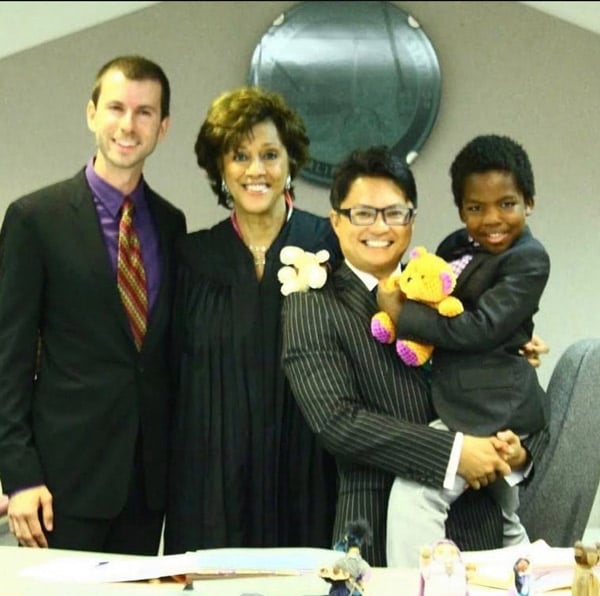 The "Alec Mapa: Baby Daddy" star and his husband Jamison Hebert adopted their son Zion through foster care when he was 5 years old. They appeared in a video for RaiseAChild.US in 2014 to encourage others to adopt.
​Matt Dallas & Blue Hamilton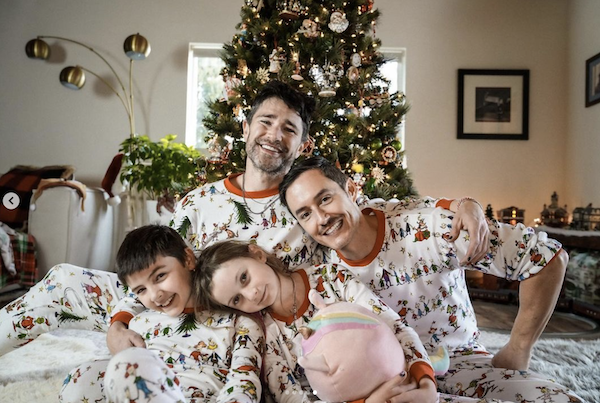 Kyle XY actor Matt Dallas and singer-songwriter Blue Hamilton introduced their newly adopted 2-year-old son Crow to fans in 2015 with a series of too-cute family photos. Since then, they've grown their family again through foster-adopt, welcoming Rosa Rae.
Richie Jackson & Jordan Roth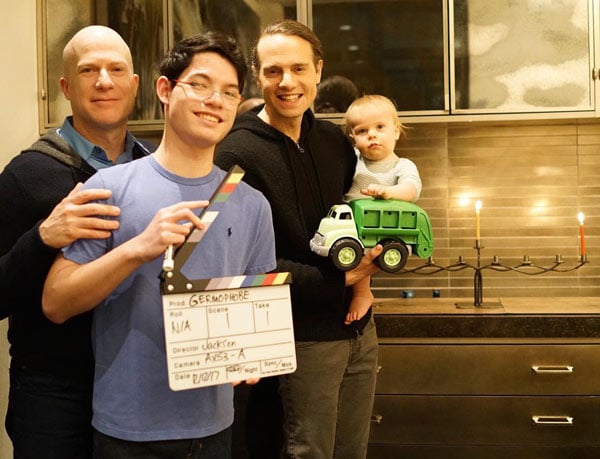 Jackson and Roth welcomed their first child together in July 2016. Levi was born via surrogacy and is the little brother of Jackson's first child from his relationship with B.D. Wong.
Dennis O'Hare & Hugo Redwood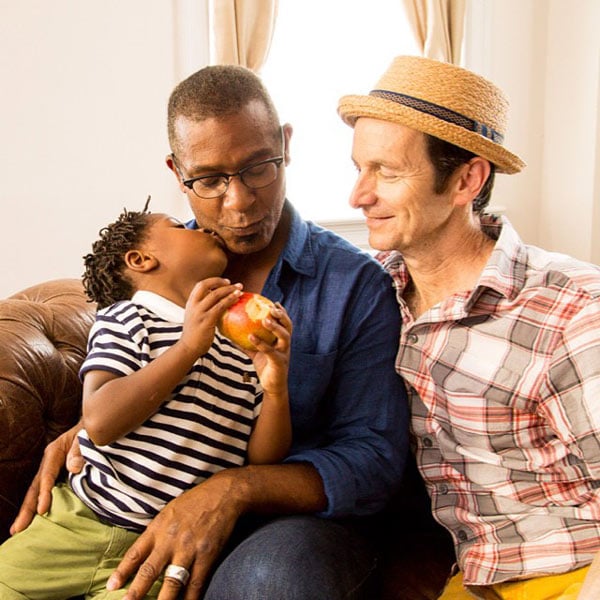 The "True Blood" and "American Horror Story" actor Dennis O'Hare and his husband Hugo Redwood shared their family's touching story as part of Tylenol's gay-inclusive "How We Family" campaign last year. The couple fostered and then adopted their son, Declan.
Greg Rikkart & Rob Sudduth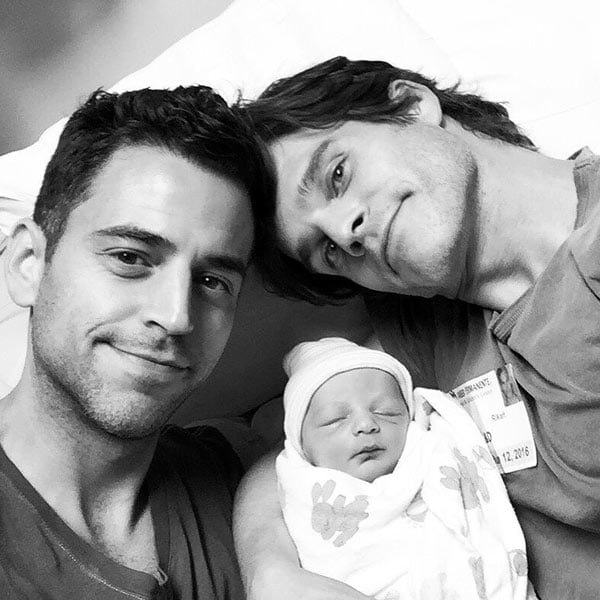 Young and the Restless star Greg Rikkart and his TV writer husband Rob Sudduth welcomed their first child, Montgomery Argo Rikaart-Sudduth, into the world on June 12, 2016. Rikkart and Sudduth created their family through surrogacy.
Tom Ford & Richard Buckley

Fashion designer Tom Ford and former "Vogue Homme" editor Richard Buckley had their son via surrogacy in 2012. For more on Tom Ford and Richard Buckley, click here.
Interested in becoming a dad? See how the GWK Academy can help you realize your dream of fatherhood.
Joey Gonzales & Jonathan Rollo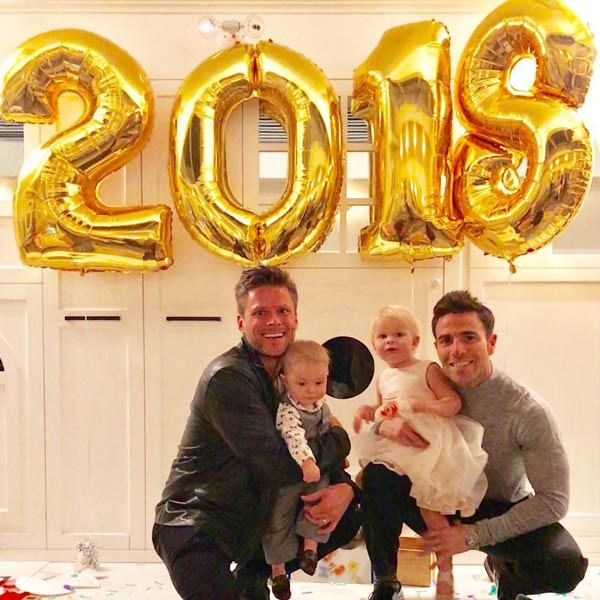 Barry's Bootcamp CEO Joey Gonzales and his husband Jonathan Rollo welcomed their baby girl Francesca on December 2, 2015. They became dads for the second time when their son was born in 2017. For more on Joey Gonzales becoming a gay dad, click here.
Rufus Wainwright & Jörn Weisbrodt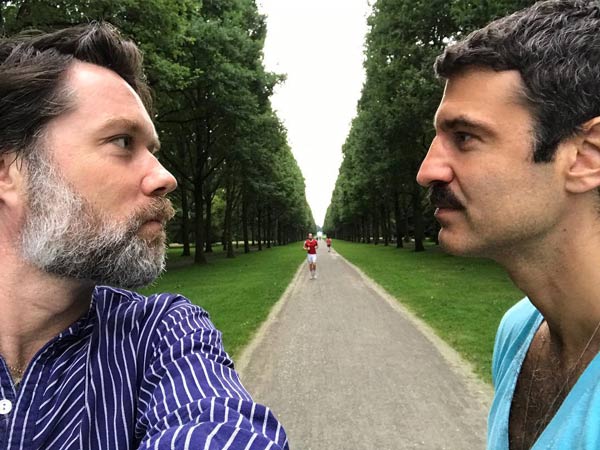 Singer-songwriter Rufus Wainwright and Leonard Cohen's daughter Lorca Cohen had a daughter in 2011. Wainwright, his partner Jörn Weisbrodt, the artistic director of Toronto's Luminato Festival, and Lorca Cohen all co-parent Viva Katherine Wainwright Cohen. Quite the talented gene pool! (No pressure, kid.)
Ian Watkins & Craig Ryder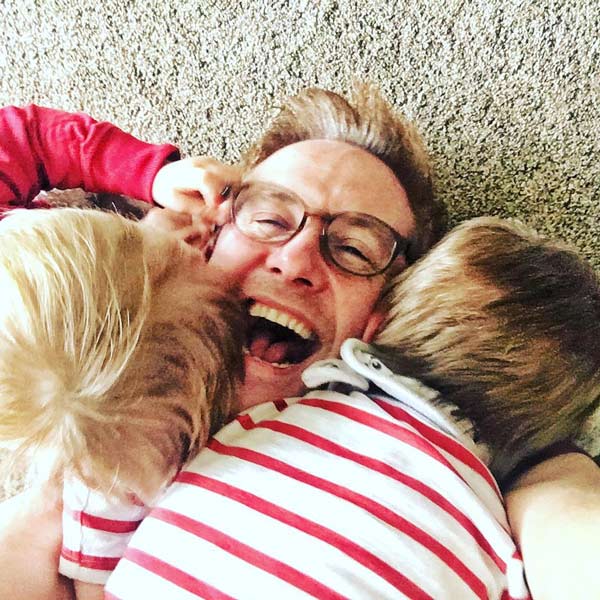 Ian Watkins, a former member of the British pop band STEPS, and his partner Craig Ryder became dads in 2016 to twins.
Lee Daniels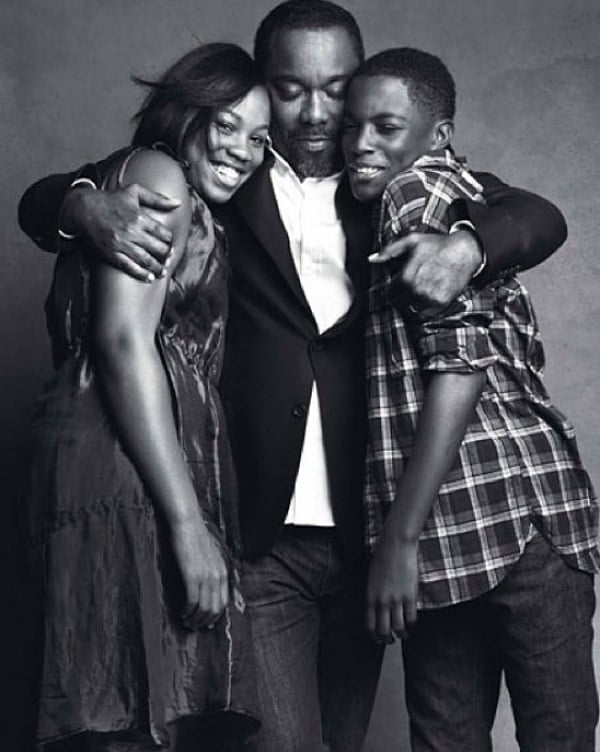 The "Precious" and "The Butler" director adopted his biological niece and nephew, twins Clara and Liam, 20 years ago with his then-partner Billy Hopkins. He rose to the challenge when his brother was incarcerated and couldn't care for the twins.
Dan Bucatinsky & Don Roos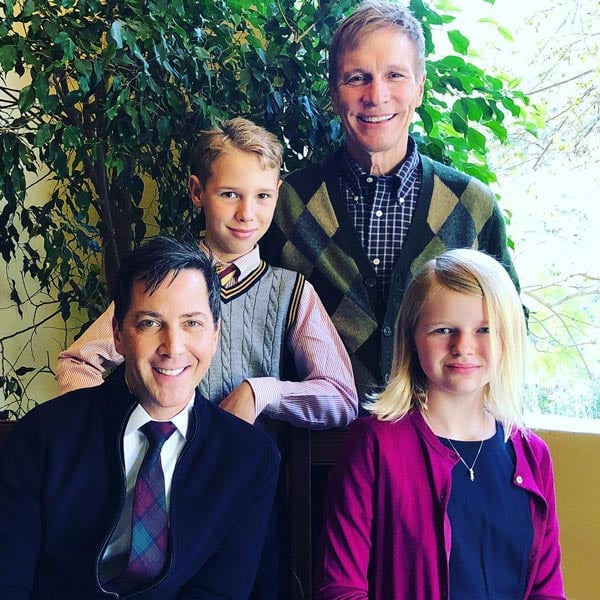 Bucatinsky, Emmy-winning "Scandal" actor and author of the memoir "Does This Baby Make Me Look Straight?: Confessions of a Gay Dad" says raising his two kids has helped him discover his inner "mommyness." He and screenwriter Don Roos adopted Eliza and Jonah, who are biological siblings, as babies two and a half years apart. For more on Dan and Don being gay dads, click here.
Bill Horn & Scout Masterson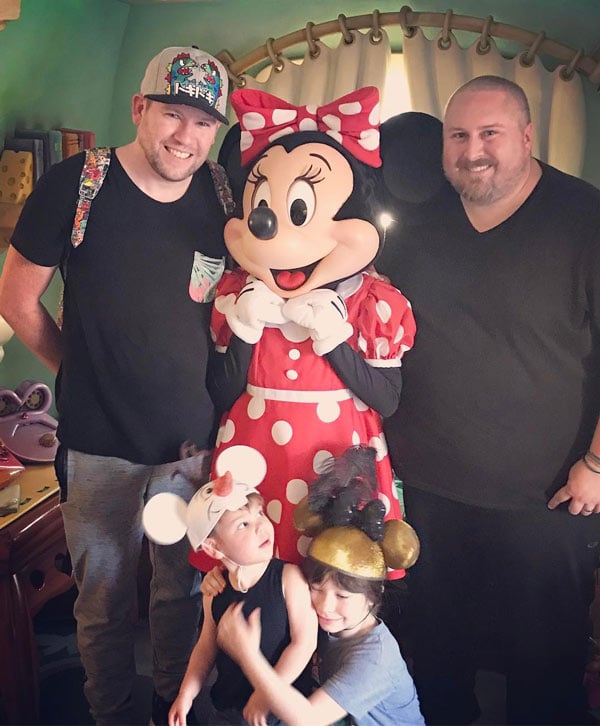 The guncles from the reality TV show "Tori & Dean: Home Sweet Hollywood" adopted both their kids, Simone and Bosley. Sadly Scout passed away in September 2022.
Claybourne Elder & Eric Rosen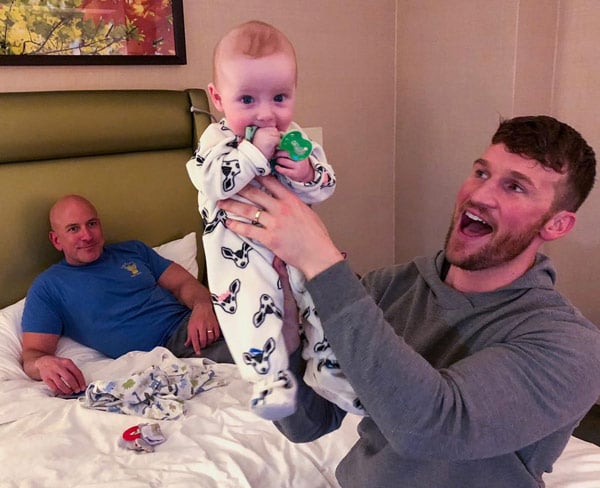 Broadway actor Claybourne Elder and his husband, Kansas City Repertory Theatre Artistic Director Eric Rosen, had their first child in August 2017.
Tony & Barrie Drewitt-Barlow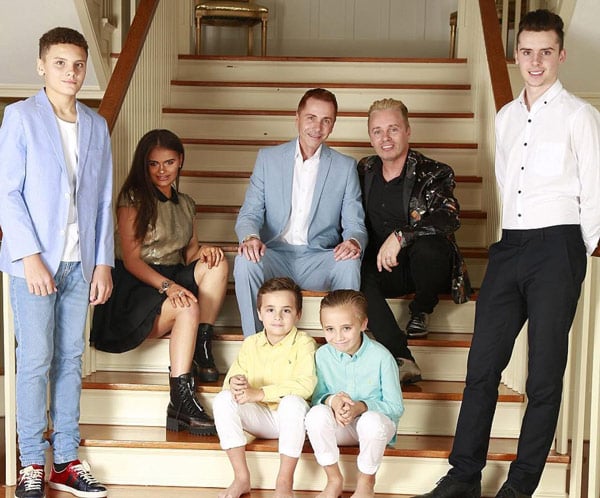 The pair became famous for being "Britain's First Gay Dads" via surrogacy. They're now fathers of five: two sets of twins and Barrie's son from a brief relationship with a woman prior to meeting Tony. Interestingly, their eldest and middle sons are identical twins. Click here to learn more about Tony and Barrie.
Vern Yip & Craig Koch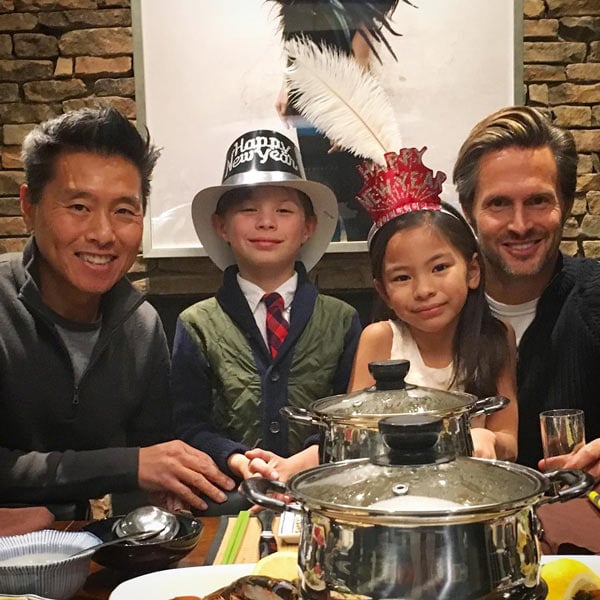 Interior designer and TV host Vern Yip has two kids via surrogacy with his partner, Craig Koch: Gavin, 6, and Vera, 4.
Frank Lowe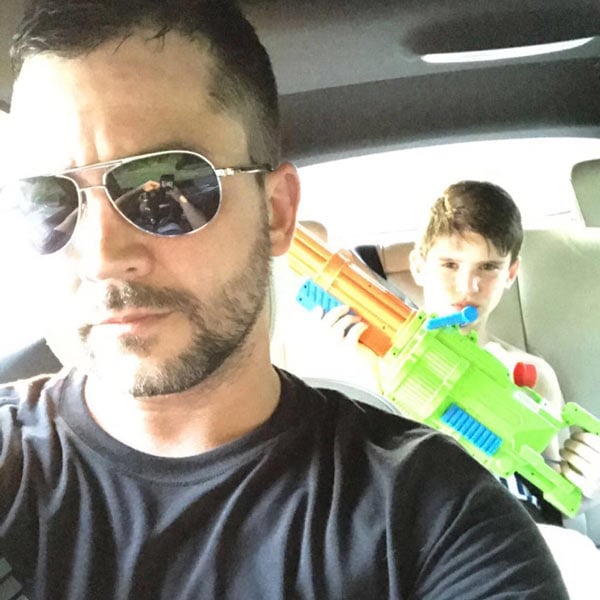 Gay-at-Home-Dad, YouTube celeb and Gays With Kids columnist Frank Lowe split with his husband of 17 years. The pair continues to co-parent their son.
Ryan Nickulas & his husband Desmond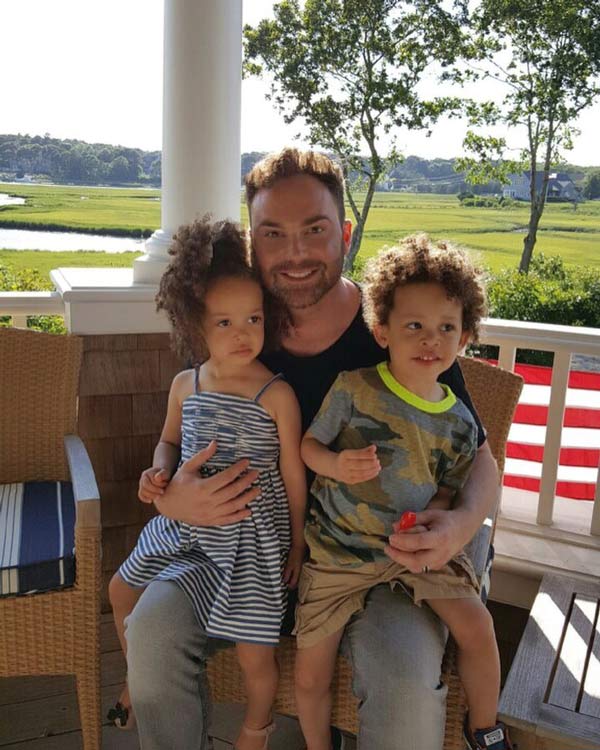 Ryan Nickulas, formally of Logo's The A-List: New York, has been busy since leaving the show. He has solidified himself as a style expert & beauty editor, and recently welcomed twins with his husband Desmond via surrogacy.
Jeremy Brandrick & Adam Morris
"Project Runway" season 12 contestant Jeremy Brandrick and his husband Adam Morris have twins Benjamin and Alexandra through surrogacy.
​Jared Polis & Marlon Reis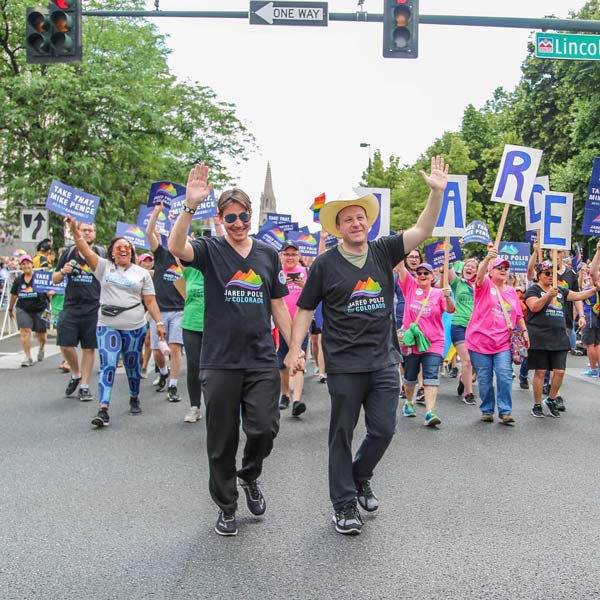 Jared Polis, the first openly gay parent in the U.S. Congress, and partner Marlon Reis have two kids: Caspian and Cora. They have declined to give details on whether they became dads through adoption or surrogacy.
Sam Harris & Danny Jacobsen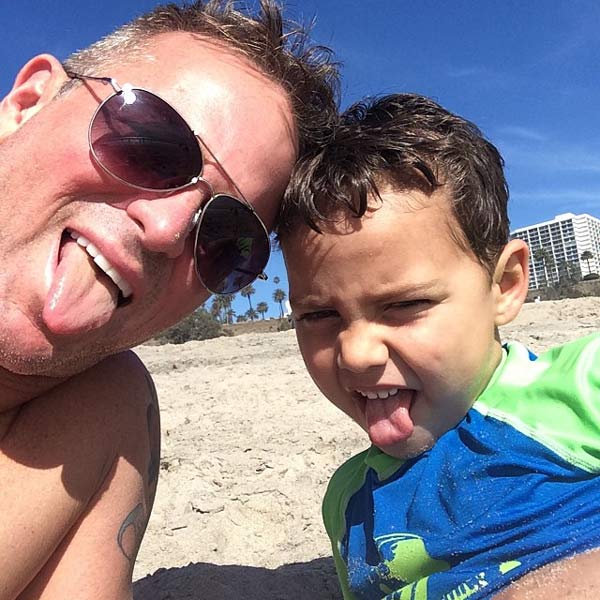 Singer/actor Sam Harris and husband Danny Jacobsen adopted their son Cooper in April 2008. To find out more about Sam becoming a dad, click here.
Kordale Lewis & Kaleb Anthony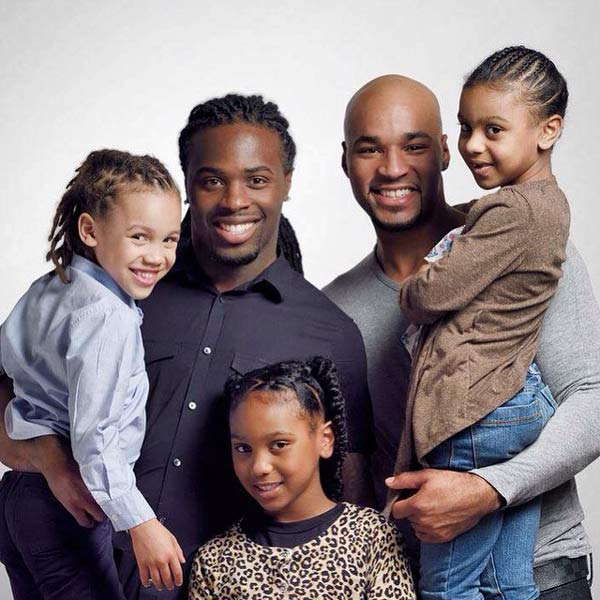 Kordale and Kaleb, whose family photo went viral in 2014, have three kids: Kordale Jr., Maliyah, and Desmiray. The family starred in a Nikon ad in 2015 and for Acne Studio clothing in 2017.
Scott Brison & Maxime Saint-Pierre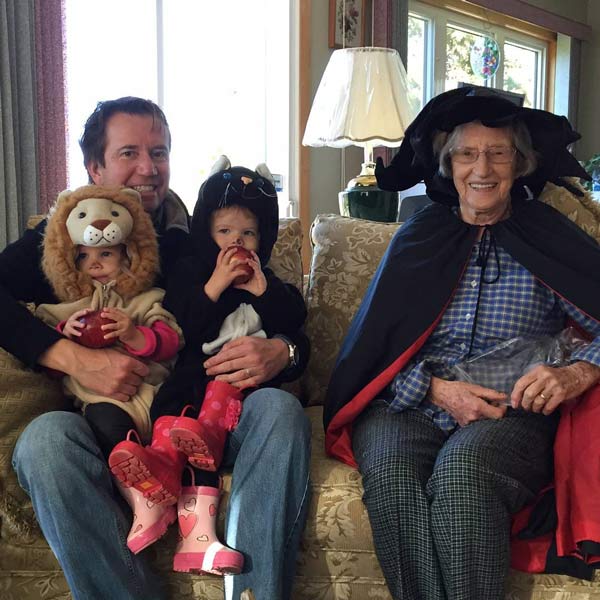 The Canadian member of Parliament and his husband Maxime Saint-Pierre had twin daughters Claire and Rose (shown above with their great aunt Margie last Halloween) via surrogacy in February 2014.
​David Mundell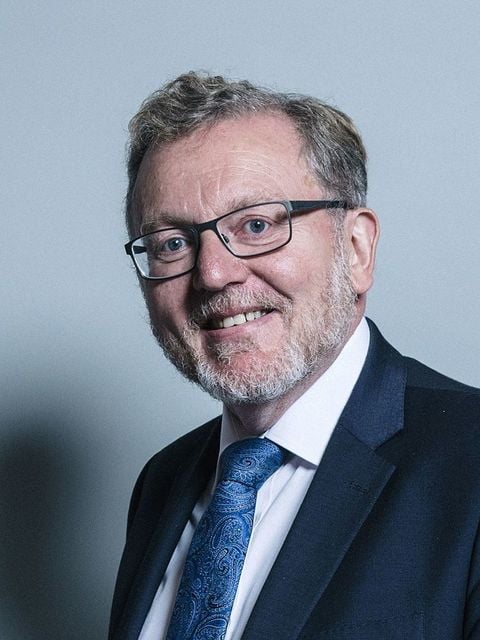 Scotland's secretary of State came out by posting an announcement on his personal blog. His adult son Oliver immediately tweeted in support of his father's decision.